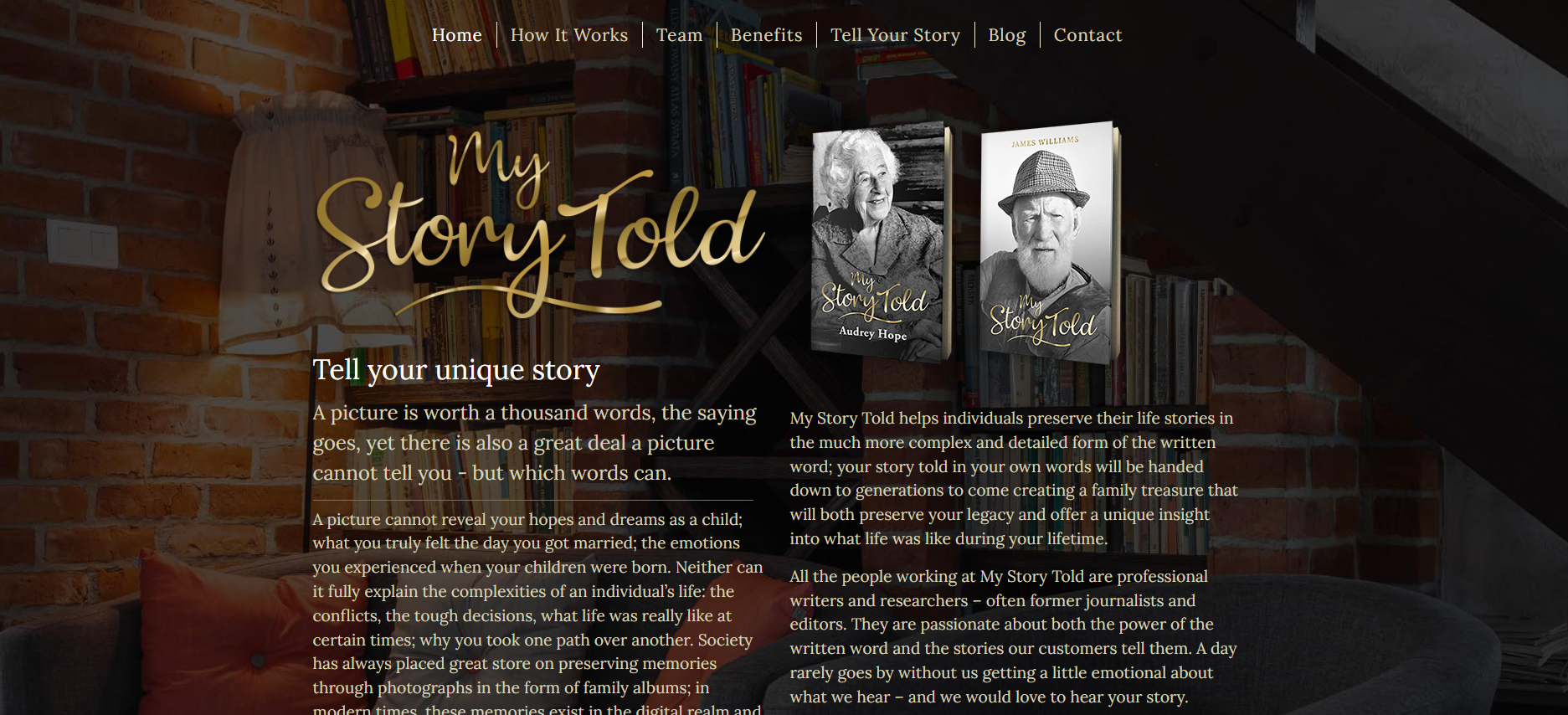 Here at Seren Global Media, we are very fortunate to work with many fantastic organisations and we take pride in every aspect of the communications that we undertake for them. For some clients, that means planning and implementing an entire multi-faceted campaign that stretches across our whole service offering from branding to content creation to social media strategy.
We were able to do this for My Story Told, a personal biography service. The scope of our work began with the initial launch of the brand and progressed to ongoing communications through social media and website content. Additionally, we provided digital marketing services in the form of PPC social media advertising and MailChimp e-campaigns.
The final fonts and colours were chosen to portray a classic and sophisticated brand aesthetic, and keywords were also identified to be associated with the brand, for example, story-telling, heritage and documenting legacy.

The challenge: Launch the brand presence of the biography service, My Story Told, by creating a website, social media profiles and announcing the launch in the press. As My Story Told was a brand-new company, increasing brand awareness was an important aspect of what we did in establishing an online presence and generating leads.
The brief: Help My Story Told convey its brand message in website content, and implement a communication strategy in order to promote and launch the company on social media and within the press.
How we helped:
Branding: Aiding with the design of the My Story Told logo and brand aesthetics, including fonts and colours.
Website: Outlining a site map for the new website, writing the copy and creating consistent content for its blog section. The content marketing strategy includes topics such as memories, ancestry, autobiography writing tips and more.
Social Media: Creating social media profiles – Twitter, Facebook, and LinkedIn - including creating cover and profile pictures and writing bios for each platform.
PR: Issuing a press release on the launch of the business.
Digital Marketing: Creating a lead generation campaign which focused on developing interest in the company and acquiring contact information for possible leads. The second campaign was to encourage MailChimp sign-ups in a bid to create an extensive audience of possible leads.
Newsletter: A monthly newsletter informing My Story Told's audience on upcoming offers/discounts and relevant information from the website content outlined above.
The outcome: The My Story Told website has been live since the launch, and a consistent social media strategy has been implemented that includes links to website content, MailChimp sign up, and links to important information on packaging and its process. Its launch story was also featured on Insider Media and Wales247.

For more updates on My Story Told, follow its social media profiles below:
My Story Told Facebook
My Story Told Twitter
My Story Told LinkedIn
If you are an organisation that requires promotional help, don't hesitate to contact us here.